Passenger Cars
We work with all insurance companies and handle much of the hassle of your claim so you don't have to. If you get into an accident give us a call, we will be happy to advise you on what to do next with your vehicle, whether it be an insurance claim or if you are paying for repairs yourself.
If you do choose to go through your insurance company, just remember that by law you have the right to choose who repairs your vehicle.
Our team of seasoned collision specialists can help in a wide range of areas, including:
---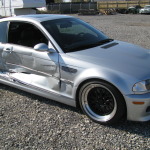 Collision Damage
We will work with you to provide a free quote, follow-up directly with your insurance agent, handle any challenges, and get your car restored to it's "better than original" condition as quickly and hassle-free as possible.  View some of our before and afters.
---

Small Dent Repair
Shopping carts, car doors, bikes, kids…whatever the cause, we will help you fix those smalls dents.  Oftentimes we can even fix small dents without the need for a costly paint job.
---

Painting
Our paint booth can handle small and large vehicles.  Our team of paint specialists will ensure you new paint matches exactly to the existing color without being able to tell any work was done.
Environmentally Friendly Paint

We also use PPG Waterborne paint that is eco-friendly.  This offers more durable color, deeper pigments and a nice lasting finish.  This is the same technology that most major car manufacturers use at the factory.
---

Rusting & Rotting Issues
The winters in Buffalo can be rough on cars.  We often see advanced rot and rust around wheel wells, door panels and under carriages.  We can help you remove rust and restore problem areas before it gets out of hand.
---
Contact us today at (716) 685-2376
for a free estimate!