Fleet / Commercial
At Aero Collision, we can handle your fleet and commercial vehicle needs. Our facility is built to handle vehicles of just about any size and our team is well versed in working on everything from limousines to your fleet and commercial vehicles–and even RVs.

Large Facility
Our shop accommodates several large vehicles at one time and allows us to complete work quickly and efficiently year-round.
---
Fleet Services
We understand that each day out of service costs you money. We work with many local fleet services, so we know returning your vehicles back to you and into service quickly, and repaired right, is your #1 priority.
---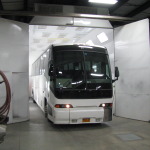 Limousine & Bus Lines
Our team has experience with limousine and bus collision and painting.  Our paint booth can handle large vehicles with room to spare!
---

Commercial Equipment
Our expertise extends beyond automotive repair.  Our team is well-versed in commercial machinery restoration and custom fabrication.
---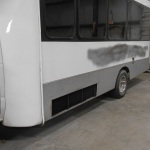 Fabrication
From small custom needs to larger projects our team can turn your design into reality, quickly and cost effectively. We have the ability to fabricate replacement panels, make custom modifications, and more.
---
Contact us today at (716) 685-2376
for a free estimate!